An average lesson lasts 45 min. ( $60)
Young beginners start with 30 min. ( $40) and gradually progress to 45 min.
For levels 7 and higher recommended lesson time is 1 hour ( $75)
Siblings get a discounted rate.
PEDAGOGICAL APPROACH
Having studied Piano Performance in Russia and Music Education in the United States, Anna is able to combine the best of both worlds in her teaching. The traditional Russian classical piano method is a great foundation for developing solid technique and artistry. Contemporary American method books provide for a rich variety of age-appropriate, interactive and fun-to-learn pieces. Together, these methods establish a strong, professional-level foundation while remaining stylistically rich and current.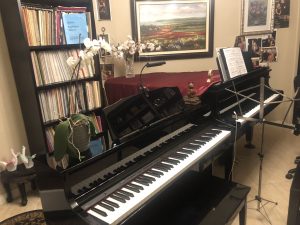 With beginner students Anna usually utilizes one or more of the progressive method books, which are carefully selected for each student from a variety of most well-established publications, such as Alfred's, Faber, Bastien's, Celebration Series, Thompson's, etc. The method is picked based on the age and individual learning style of the child. Method books can be very successfully used for a few years, and are a good source of age-appropriate, visually appealing and fun pieces and technique exercises. They motivate students to practice diligently and consistently so that they can move on to the next level and earn a certificate of achievement (each level has a certificate page at the end of the book).
After 1-2 years, students move on to playing varied repertoire compositions by original composers from different musical styles and genres, such as Mozart, Beethoven, Bach, Chopin, Tchaikovsky, etc. They are introduced and work on mastering the artistic and technical elements specific to different styles of piano music. Students work simultaneously on several compositions consisting of piano selections for each particular grade level (sonatas, etudes, preludes, inventions, etc.) Before settling on a particular repertoire selection, we carefully consider different options, being always guided by what composition "clicks" best with the student. It should be challenging but not overwhelming, and the student should connect to its energy, character and mood. If the student is excited about the piece, he/she won't mind practicing it for weeks or sometimes even months that may be needed in order to perfect it.
Throughout the year students get to play not only serious but also fun selections, such as seasonal music, popular music that hey may suggest themselves. Students are encouraged not to be shy to compose their own music or improvise.
PRACTICING AT HOME
Correct practicing at home is absolutely essential to the success of the student. If it's meaningful to the student, it won't be viewed as a boring chore. Practicing can be fun and satisfying when the student is fully engaged in the process and understands its purpose. The secret for happy practicing is in connecting to the piece and knowing what needs to be done to make the music come to life. It is my role as a teacher to help my students first to fall in love with the music, and then to show them step by step all the little and big secrets of how to practice to get great results.
PIANO LESSONS JUST FOR FUN
We know that not everyone wants to become a professional musician or can commit to the serious study path that requires lengthy daily practice. Some students just want to learn how to play the piano for pure enjoyment. Playing the piano just for fun and relaxation is a wonderful enrichment activity, especially for those students who are busy with rigorous academics and sports.